The wedding activities and events will take place in or very near Fort Casey, which is just outside the town of Coupeville on Whidbey Island. Please email us if you have any questions! See detailed directions below the map.
Getting to Whidbey Island
Driving Directions: There are two easy ways to get to Whidbey from Seattle – driving/walking on to the Mukilteo ferry, or driving north through Mt. Vernon and across Deception Pass. The Ferry route takes about 2 hours from Seattle if you include a short wait at the ferry, and driving all the way takes about 2 ˝ to 3 hours. Both ways are definitely "scenic routes" and you may want to try both. Please note that there can be long ferry lines during the summer, especially on weekends. If possible we highly recommend leaving Seattle by 3:00 pm on Friday or 12:00 pm on Saturday, if planning to take the ferry.
Shuttle Directions: SeaTac Shuttle leaves every two hours from the Seattle airport for Whidbey Island. The shuttle can take you directly from the airport to Fort Casey, and takes about 2 hours. The shuttle doesn't have to wait in ferry lines, which can be a big plus during busy times. It's not really necessary to have a car once your on Whidbey, so we'd recommend the shuttle for most out-of-town guests. To make a reservation please call the shuttle company at 360-679-4003.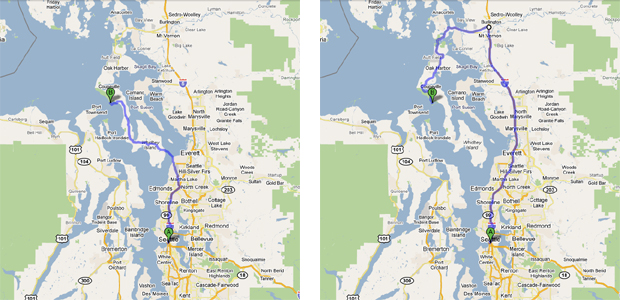 (click maps for bigger view)
Getting to Fort Casey
Coupeville is just about in the middle of Whidbey, on Highway 20. If you're coming across the Mukilteo ferry, exit the ferry and follow the traffic onto Highway 525. This is the main road on the southern half of the island. To get to Fort Casey, you'll actually turn off before you get to Coupeville, on Wanamaker Road. Turn left (west) on to Wanamaker from 525, then veer left (south) and then right (west) and drive along the narrow spit there between Lake Crocket and Admiralty Bay. Drive past the Port Townsend ferry and up Engles Road to Fort Casey.
If you're taking the Deception Pass route, from Seattle head north on I-5 to Burlington, and exit there on to Highway 20 West. You'll take this road the whole way to Coupeville. Highway 20 splits before Anacortes, so make sure you turn left there and follow the signs to Deception Pass. After the pass, drive through the town of Oak Harbor and then to Coupeville. You'll know your there when you see a stoplight. Turn right (south) at the light on to Main Street, which becomes Engles Road, and drive about 2 ˝ miles to Fort Casey.
We'll have a welcome table set-up at Fort Casey to help you find your room.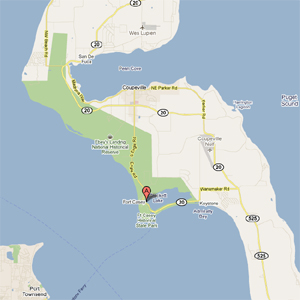 (click map for bigger view)
Getting to Ebey's Landing State Park
The Wedding Ceremony will be on Saturday afternoon at Fort Ebey State Park. We will be bussing guests from Fort Casey to the Park on Saturday - please meet the busses at 3:00 pm at Garrison Hall at Fort Casey. Return transportation to and from the reception will also be provided. Due to limited parking we recommend all guests travel with us by bus. In case you are driving, the park is about 4 ˝ miles west of Coupeville. From Coupeville, travel west on Highway 20 about 3 ˝ miles to Libbey Road. Turn left, and drive about 1 mile to Hill Valley Drive. Continue on Hill Valley Drive about a half mile to the Fort Ebey State Park Entrance. Follow the signs to the Gun Battery. Seriously. Don't worry though it's not really there anymore.
(click map for bigger view)